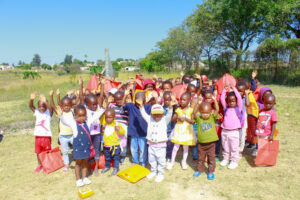 Our work continues to go well. This is important because the consequences of Covid are still being felt in South Africa, and 2022 census data show that more than 60% of the children in South Africa live in poverty. Food insecurity continues to be a dire concern for children in South Africa.
Fortunately, we continue to serve hot nutritious meals to hundreds of children every day, currently feeding 450 each day. And since January, we have increased our reach to include pregnant women and preschoolers for the first time. This is an incredibly important addition to our program, as the first 5 years of a life are critical for a child's overall development. In the first 6 months of the year more than 40,000 meals were served.
This year we were also able to make important improvements in the gardens that produce the fresh vegetables we serve. Improved solar powered water pumps and enriched soil health will increase food production on site. These changes will reduce costs of the meals we serve and provide an additional income as we sell fresh produce in the local market. Our gardens not only feed the children but uplift the community. Our excess produce increases access to healthy food for people in the area and at least one local restaurant. And between our two locations, we employ 14 people, 11 of whom are women. This is good news for the entire community in which the children live.
Our concept works. That is why we want to expand our activities. We aim to feed at least 500 children every day by the end of the year. In addition, we are in advanced talks to open a third Ubuntu Mundo kitchen in another country. After all, our mission goes beyond South Africa.