Feed the Children of the World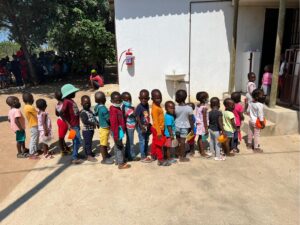 For the first time in over 2 years, we were able to travel back to South Africa. It was with great joy and delight to see both kitchens, in Bodlayabongolo and Rooiboklaagte, operating so well.
The Bodlayabongolo kitchen currently serves 200 children. For the first time this quarter, pregnant women and pre-school children came to the Ubuntu Mundo kitchen. We are very pleased with this development as it is well known that the first 5 years of a child are critical for the overall development. The gardens have been producing many vegetables used in the meals. Like tomatoes, onions, spinach and beetroot. Even when it has been much warmer than normal, the greenhouse made sure we were able to sustain our production. And Mr. James and his team have been expanding the outside land. Most notably with fruit trees and cassava. The later will be used for both the meals as well as being sold in the local markets.
In Rooiboklaagte things could have not gone any better as well. This kitchen opened in the middle of the pandemic. It started serving 100 children during very difficult circumstances. Over time 50 children were added to the program. While an estimated 500 in that community alone would benefit from the Ubuntu Mundo meal.
Overall, we are very pleased with the progress in South Africa. But our work is far from being done. Covid-19 has left a mark on the whole country. Unemployment is very high and an estimated 50% of children are food insecure. Ubuntu Mundo's programs are mainly focused on the latter, but they also create some much needed employment. Our formula is simple but very effective.
With your continued support, we will keep expanding our programs and feed the children of the world.