Ubuntu Mundo Q2 2023 Update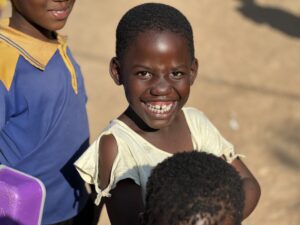 Feed the Children of the World
Ubuntu Mundo began feeding children in 2016. In these seven years of operations, we have faced challenges, but we have never wavered from our original mission to feed as many children as possible. What started as 80 children being fed out of a borrowed kitchen has grown to meals for 600 children every day, vegetables grown in our own garden, two dedicated Ubuntu kitchens, and nearly 300,000 meals served.
The Power of Community – Building Relationships
Due to adverse weather conditions in February and March we lost a substantial amount of our crop. But through the perseverance of our staff and with the guidance of our agricultural advisers, Carel Pretorius and Albert Horn, we are back on track. In addition to sharing their expertise, their respective companies, Klaserie Market and Parma Nursery, have been donating fresh vegetables and seedlings to the project to help us through the roughest patch. The garden in Bodlayabongolo is once again producing onion, beetroot, carrot, cabbage, and spinach for 600 children on a weekly basis.
In May we were introduced to Neil Willmott, the owner of Bushwillow Creek Ranch, a family-owned wildlife and livestock ranch. The Willmott family has a holistic approach to all they do, and they have always believed in giving back whether it's time, money, or opportunity. Neill heard about Ubuntu Mundo and our successful projects feeding children, and he reached out to offer support. With input from three generations of his family, Neil offered Ubuntu Mundo the use of one hectare of farmland. Allowing Ubuntu Mundo to cultivate the land will give us the space we need to farm at a scale that will lead to greater sustainability.
We are thrilled to report, that after having prepared the land, we recently planted 18,000 green pepper plants. First harvest is expected by the end of October. When successful, this will be an important step towards self-reliance.
The Future
The need in South Africa remains dire. As previously reported, current census data show that more than 80% of children in rural areas of South Africa live in multidimensional poverty. Spending time among the children in rural South Africa is the inspiration for Ubuntu Mundo. It is not the need they face, but rather their beautiful spirit and the potential in all children that motivates our work. As we look ahead, the children continue to inspire our commitment and drive our expansion.
We are always thrilled to share news of Ubuntu Mundo with you, but our recent developments have energized us in a new way. New partnerships, increased growing capacity, and expanded opportunities for financial stability have made some of our most ambitious dreams nearer to our reach. Thank you for your support over the years, and we look forward to sharing our progress with you.
Ubuntu!